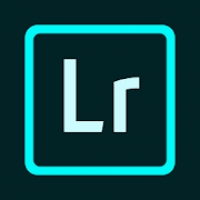 Adobe Lightroom
Puan: 4.33 (Oylar: 3)
Adobe Photoshop Lightroom is a free, powerful, yet intuitive camera app and photo editor. Lightroom empowers you to capture and edit beautiful images while helping you to become a better photographer.
With easy-to-use tools like sliders and filters for pictures, Lightroom makes photo editing simple. And you can retouch your full-resolution photos anywhere - on mobile, the web, or your desktop. Now you can access all your Lightroom presets, and edits and retouches on one device are automatically applied everywhere else.
PRO-LEVEL CAMERA
Unlock your phone camera's potential with unique controls. Choose from exposure, timer, instant presets and more. Get more detailed shots with advanced capture modes such as raw, professional, and HDR.
EDIT YOUR PHOTOS ANYWHERE
Create powerful images with one of the world's most complete and intuitive photo editing apps. Just tap and drag sliders to improve light and color, apply filters for pictures, and more - wherever you are. Breathe life into your photo effects with these industry-leading tools.
Easy-to-use sliders give you complete control over the light and color properties of your photos. Refine and tweak colors on your photo to make them pop.
Crop and Rotate tools let you find the size and aspect ratio that will frame your work just right.
The advanced picture editor helps you to finesse the details. Take complete control of your image by making selective adjustments and removing just about anything from your photo, no matter how big or small, with the Healing Brush.
Precisely edit any part of a photo with your finger or stylus to apply enhancements with exact detail.
Create super clean shots with straight lines by adjusting the perspective of your image with powerful upright, guided upright, and Geometry slider tools.
Interactive tutorials: Get inspired and learn how to use the photo editor to its full potential by completing step-by-step lessons curated by fellow photographers.
LIGHTROOM PRESETS SIMPLIFY PHOTO EDITING:
Fine tune your photo editing by using presets - filters for pictures with unlimited customization options. Picture editor presets make every step in the adjustment process visible so that you can learn to do it yourself. Combine customizable presets to recreate your favorite photo effects time and time again with just one click. Lightroom is a picture editor that enables you to be even more creative.
SMART ORGANIZATION FOR YOUR PHOTOS
Save time on organizing so you can focus on your photography. Adobe Sensei harnesses the power of artificial intelligence to automatically tag and organize your photos based on the objects or people that are in them. A quick search for "mountains" or "Maria" will surface all the photos with those elements in them. Lightroom photo editor comes equipped with organizational tools like ratings and flags so you can mark the photos you like best and create albums with a click.
WORRY-FREE ADOBE CREATIVE CLOUD STORAGE:
The Lightroom image editor is the best cloud-based service for people who love photography.
Back up your original photos and edits to access them on other devices, as well as through Lightroom on web. Adjust your full-resolution shots and have both your originals and edits backed up to the cloud. Organize with searchable keywords that are automatically applied without the hassle of tagging.
ADVANCED PHOTO SHARING
Easily create and share a Group Album where you can invite others to contribute to the album and access everyone's photos in a single place. Lightroom web galleries enable you to easily showcase your photos online. Photo edits sync seamlessly, so any changes you make are always up-to-date *Full raw HDR capture mode is currently supported on devices that contain advanced processing and memory capabilities including but not limited to devices such as - Samsung S7, S7 Edge, S8, S8+, Note 8, Google Pixel, Pixel XL, Pixel 2, Pixel 2 XL, Pixel 3, Pixel 3 XL, and OnePlus 5.
Değerlendirme kriteri: 3 Oylar ve 0 Kullanıcı Yorumları
Henüz inceleme eklenmemiş.
Kategorideki Diğer Uygulamalar